How's Your SWR?
As everyone knows, the higher your SWR (Standing Wave Ratio) the less efficient your antenna is. I searched everywhere on the internet internet looking for a Chart or Excel spreadsheet that would tell me the power loss to expect for a given SWR. I own an Array Solutions AIM-4170b Antenna Analyzer, so I set out to create my own chart, as I have a bunch of antennas at my QTH, and I have several friends with antennas. I wanted to scan as many antennas as possible.

After scanning about a dozen HF antennas, I put the data into Excel and let Excel do it's magic.
So here is a Chart showing how SWR effects how much power you actually radiate from your antenna.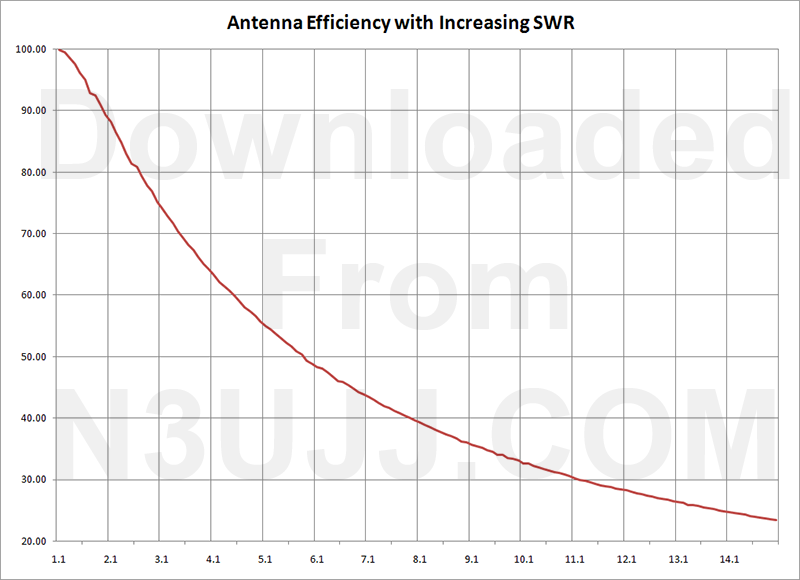 Here is the actual data:
(or click here for excel spreadsheet)
| | | |
| --- | --- | --- |
| SWR | %Reflected Power | % Power Out |
| 1.10 | 0.11 | 99.89 |
| 1.20 | 0.52 | 99.48 |
| 1.30 | 1.35 | 98.65 |
| 1.40 | 2.37 | 97.63 |
| 1.50 | 3.80 | 96.20 |
| 1.60 | 4.92 | 95.08 |
| 1.70 | 7.10 | 92.90 |
| 1.80 | 7.56 | 92.44 |
| 1.90 | 9.22 | 90.78 |
| 2.00 | 10.71 | 89.29 |
| 2.10 | 11.91 | 88.09 |
| 2.20 | 13.53 | 86.47 |
| 2.30 | 15.11 | 84.89 |
| 2.40 | 16.99 | 83.01 |
| 2.50 | 18.61 | 81.39 |
| 2.60 | 19.11 | 80.89 |
| 2.70 | 20.71 | 79.29 |
| 2.80 | 22.18 | 77.82 |
| 2.90 | 23.11 | 76.89 |
| 3.00 | 24.91 | 75.09 |
| 3.10 | 25.92 | 74.08 |
| 3.20 | 27.12 | 72.88 |
| 3.30 | 28.30 | 71.70 |
| 3.40 | 29.62 | 70.38 |
| 3.50 | 30.72 | 69.28 |
| 3.60 | 31.80 | 68.20 |
| 3.70 | 32.68 | 67.32 |
| 3.80 | 33.82 | 66.18 |
| 3.90 | 34.98 | 65.02 |
| 4.00 | 35.73 | 64.27 |
| 4.10 | 36.69 | 63.31 |
| 4.20 | 37.81 | 62.19 |
| 4.30 | 38.46 | 61.54 |
| 4.40 | 39.21 | 60.79 |
| 4.50 | 40.08 | 59.92 |
| 4.60 | 41.02 | 58.98 |
| 4.70 | 41.92 | 58.08 |
| 4.80 | 42.55 | 57.45 |
| 4.90 | 43.39 | 56.61 |
| 5.00 | 44.25 | 55.75 |
| 5.10 | 44.95 | 55.05 |
| 5.20 | 45.56 | 54.44 |
| 5.30 | 46.26 | 53.74 |
| 5.40 | 46.93 | 53.07 |
| 5.50 | 47.63 | 52.37 |
| 5.60 | 48.35 | 51.65 |
| 5.70 | 49.03 | 50.97 |
| 5.80 | 49.58 | 50.42 |
| 5.90 | 50.56 | 49.44 |
| 6.00 | 51.11 | 48.89 |
| 6.10 | 51.67 | 48.33 |
| 6.20 | 51.90 | 48.10 |
| 6.30 | 52.49 | 47.51 |
| 6.40 | 53.11 | 46.89 |
| 6.50 | 53.89 | 46.11 |
| 6.60 | 54.09 | 45.91 |
| 6.70 | 54.56 | 45.44 |
| 6.80 | 55.06 | 44.94 |
| 6.90 | 55.67 | 44.33 |
| 7.00 | 56.13 | 43.87 |
| 7.10 | 56.54 | 43.46 |
| 7.20 | 57.05 | 42.95 |
| 7.30 | 57.46 | 42.54 |
| 7.40 | 58.02 | 41.98 |
| 7.50 | 58.31 | 41.69 |
| 7.60 | 58.73 | 41.27 |
| 7.70 | 59.16 | 40.84 |
| 7.80 | 59.59 | 40.41 |
| 7.90 | 59.92 | 40.08 |
| 8.00 | 60.31 | 39.69 |
| 8.10 | 60.71 | 39.29 |
| 8.20 | 61.09 | 38.91 |
| 8.30 | 61.44 | 38.56 |
| 8.40 | 61.80 | 38.20 |
| 8.50 | 62.23 | 37.77 |
| 8.60 | 62.61 | 37.39 |
| 8.70 | 62.85 | 37.15 |
| 8.80 | 63.21 | 36.79 |
| 8.90 | 63.72 | 36.28 |
| 9.00 | 63.85 | 36.15 |
| 9.10 | 64.20 | 35.80 |
| 9.20 | 64.53 | 35.47 |
| 9.30 | 64.82 | 35.18 |
| 9.40 | 65.18 | 34.82 |
| 9.50 | 65.39 | 34.61 |
| 9.60 | 65.95 | 34.05 |
| 9.70 | 65.97 | 34.03 |
| 9.80 | 66.40 | 33.60 |
| 9.90 | 66.56 | 33.44 |
| 10.00 | 66.87 | 33.13 |
| 10.10 | 67.31 | 32.69 |
| 10.20 | 67.38 | 32.62 |
| 10.30 | 67.66 | 32.34 |
| 10.40 | 67.95 | 32.05 |
| 10.50 | 68.22 | 31.78 |
| 10.60 | 68.45 | 31.55 |
| 10.70 | 68.67 | 31.33 |
| 10.80 | 68.86 | 31.14 |
| 10.90 | 69.12 | 30.88 |
| 11.00 | 69.34 | 30.66 |
| 11.10 | 69.68 | 30.32 |
| 11.20 | 69.98 | 30.02 |
| 11.30 | 70.09 | 29.91 |
| 11.40 | 70.35 | 29.65 |
| 11.50 | 70.58 | 29.42 |
| 11.60 | 70.88 | 29.12 |
| 11.70 | 71.03 | 28.97 |
| 11.80 | 71.09 | 28.91 |
| 11.90 | 71.35 | 28.65 |
| 12.00 | 71.53 | 28.47 |
| 12.10 | 71.70 | 28.30 |
| 12.20 | 71.90 | 28.10 |
| 12.30 | 72.16 | 27.84 |
| 12.40 | 72.34 | 27.66 |
| 12.50 | 72.51 | 27.49 |
| 12.60 | 72.67 | 27.33 |
| 12.70 | 72.92 | 27.08 |
| 12.80 | 73.03 | 26.97 |
| 12.90 | 73.21 | 26.79 |
| 13.00 | 73.40 | 26.60 |
| 13.10 | 73.58 | 26.42 |
| 13.20 | 73.73 | 26.27 |
| 13.30 | 74.02 | 25.98 |
| 13.40 | 74.10 | 25.90 |
| 13.50 | 74.25 | 25.75 |
| 13.60 | 74.43 | 25.57 |
| 13.70 | 74.59 | 25.41 |
| 13.80 | 74.75 | 25.25 |
| 13.90 | 74.92 | 25.08 |
| 14.00 | 75.06 | 24.94 |
| 14.10 | 75.20 | 24.80 |
| 14.20 | 75.35 | 24.65 |
| 14.30 | 75.50 | 24.50 |
| 14.40 | 75.64 | 24.36 |
| 14.50 | 75.82 | 24.18 |
| 14.60 | 75.94 | 24.06 |
| 14.70 | 76.12 | 23.88 |
| 14.80 | 76.28 | 23.72 |
| 14.90 | 76.43 | 23.57 |
| 15.00 | 76.50 | 23.50 |
| 15.10 | 76.65 | 23.35 |
| 15.20 | 76.86 | 23.14 |
| 15.30 | 77.01 | 22.99 |
| 15.40 | 77.07 | 22.93 |
| 15.50 | 77.20 | 22.80 |
| 15.60 | 77.35 | 22.65 |
| 15.70 | 77.49 | 22.51 |
| 15.80 | 77.60 | 22.40 |
| 15.90 | 77.78 | 22.22 |
| 16.00 | 77.82 | 22.18 |
| 16.20 | 78.10 | 21.90 |
| 16.30 | 78.23 | 21.77 |
| 16.40 | 78.28 | 21.72 |
| 16.50 | 78.39 | 21.61 |
| 16.60 | 78.59 | 21.41 |
| 16.70 | 78.68 | 21.32 |
| 16.80 | 78.77 | 21.23 |
| 16.90 | 78.89 | 21.11 |
| 17.00 | 79.00 | 21.00 |
| 17.10 | 79.09 | 20.91 |
| 17.20 | 79.18 | 20.82 |
| 17.30 | 79.30 | 20.70 |
| 17.40 | 79.40 | 20.60 |
| 17.50 | 79.51 | 20.49 |
| 17.60 | 79.68 | 20.32 |
| 17.70 | 79.75 | 20.25 |
| 17.80 | 79.81 | 20.19 |
| 17.90 | 79.91 | 20.09 |
| 18.00 | 80.01 | 19.99 |
| 18.10 | 80.11 | 19.89 |
| 18.20 | 80.23 | 19.77 |
| 18.30 | 80.31 | 19.69 |
| 18.40 | 80.41 | 19.59 |
| 18.50 | 80.51 | 19.49 |
| 18.60 | 80.59 | 19.41 |
| 18.70 | 80.68 | 19.32 |
| 18.80 | 80.84 | 19.16 |
| 18.90 | 80.94 | 19.06 |
| 19.00 | 80.99 | 19.01 |
| 19.10 | 81.09 | 18.92 |
| 19.20 | 81.14 | 18.86 |
| 19.30 | 81.23 | 18.77 |
| 19.40 | 81.36 | 18.64 |
| 19.50 | 81.40 | 18.60 |
| 19.60 | 81.48 | 18.52 |
| 19.70 | 81.58 | 18.42 |
| 19.80 | 81.70 | 18.30 |
| 19.90 | 81.75 | 18.25 |
| 20.00 | 81.83 | 18.17 |
| 20.10 | 81.93 | 18.07 |
| 20.20 | 82.03 | 17.97 |
| 20.30 | 82.07 | 17.93 |
| 20.40 | 82.17 | 17.83 |
| 20.60 | 82.32 | 17.68 |
| 20.70 | 82.41 | 17.59 |
| 20.80 | 82.46 | 17.54 |
| 20.90 | 82.56 | 17.44 |
| 21.00 | 82.61 | 17.39 |
| 21.20 | 82.76 | 17.24 |
| 21.30 | 82.85 | 17.15 |
| 21.40 | 82.97 | 17.03 |
| 21.50 | 82.98 | 17.02 |
| 21.60 | 83.09 | 16.91 |
| 21.90 | 83.32 | 16.68 |
| 22.10 | 83.45 | 16.55 |
| 22.20 | 83.53 | 16.47 |
| 22.40 | 83.63 | 16.37 |
| 22.50 | 83.67 | 16.33 |
| 22.80 | 83.89 | 16.11 |
| 22.90 | 83.99 | 16.01 |
| 23.00 | 84.04 | 15.96 |
| 23.10 | 84.10 | 15.90 |
| 23.30 | 84.24 | 15.76 |
| 23.50 | 84.35 | 15.65 |
| 23.60 | 84.38 | 15.62 |
| 23.80 | 84.51 | 15.49 |
| 23.90 | 84.59 | 15.41 |
| 24.00 | 84.64 | 15.36 |
| 24.10 | 84.68 | 15.32 |
| 24.20 | 84.75 | 15.25 |
| 24.30 | 84.81 | 15.19 |
| 24.60 | 84.98 | 15.02 |
| 25.20 | 85.31 | 14.69 |
| 25.40 | 85.44 | 14.56 |
| 25.50 | 85.46 | 14.54 |
| 25.80 | 85.61 | 14.39 |
| 25.90 | 85.69 | 14.31 |
| 26.40 | 85.94 | 14.06 |
| 26.70 | 86.07 | 13.93 |
| 26.80 | 86.12 | 13.88 |
| 26.90 | 86.19 | 13.81 |
| 27.20 | 86.31 | 13.69 |
| 27.90 | 86.64 | 13.36 |
| 28.00 | 86.66 | 13.34 |
| 28.20 | 86.79 | 13.21 |
| 28.70 | 86.99 | 13.01 |
| 29.00 | 87.11 | 12.89 |
| 29.70 | 87.38 | 12.62 |
| 29.90 | 87.46 | 12.54 |
| 30.20 | 87.57 | 12.43 |
| 30.60 | 87.75 | 12.25 |
| 30.80 | 87.83 | 12.17 |
| 31.40 | 88.02 | 11.98 |
| 32.60 | 88.45 | 11.55 |
| 33.00 | 88.58 | 11.42 |
| 33.20 | 88.65 | 11.35 |
| 33.60 | 88.77 | 11.23 |
| 34.90 | 89.17 | 10.83 |
| 35.10 | 89.24 | 10.76 |
| 36.10 | 89.51 | 10.49 |
| 37.60 | 89.90 | 10.10 |
| 38.10 | 90.02 | 9.98 |
| 39.20 | 90.29 | 9.71 |
| 40.40 | 90.58 | 9.42 |
| 40.60 | 90.63 | 9.37 |
| 42.40 | 90.99 | 9.01 |
| 43.40 | 91.19 | 8.81 |
| 43.60 | 91.23 | 8.77 |
| 44.10 | 91.33 | 8.67 |
| 46.70 | 91.79 | 8.21 |
| 47.00 | 91.85 | 8.15 |
| 48.80 | 92.13 | 7.87 |
| 50.90 | 92.45 | 7.55 |
| 51.00 | 92.45 | 7.55 |
| 52.10 | 92.61 | 7.39 |
| 54.00 | 92.86 | 7.14 |
| 55.70 | 93.07 | 6.93 |
| 57.10 | 93.23 | 6.77 |
| 57.30 | 93.26 | 6.74 |
| 59.30 | 93.48 | 6.52 |
| 61.10 | 93.66 | 6.34 |
| 65.40 | 94.07 | 5.93 |
| 66.40 | 94.15 | 5.85 |
| 69.90 | 94.43 | 5.57 |
| 71.30 | 94.54 | 5.46 |
| 73.00 | 94.67 | 5.33 |
| 74.80 | 94.79 | 5.21 |
| 81.30 | 95.20 | 4.80 |
| 82.00 | 95.24 | 4.76 |
| 86.90 | 95.50 | 4.50 |
| 88.70 | 95.59 | 4.41 |
| 96.90 | 95.95 | 4.05 |
| 104.30 | 96.24 | 3.76 |
| 112.90 | 96.52 | 3.48 |
| 114.90 | 96.58 | 3.42 |
| 115.00 | 96.58 | 3.42 |
| 122.60 | 96.79 | 3.21 |
| 136.10 | 97.10 | 2.90 |
| 144.30 | 97.27 | 2.73 |
| 146.70 | 97.31 | 2.69 |
| 166.50 | 97.63 | 2.37 |
| 191.40 | 97.93 | 2.07 |
| 210.00 | 98.11 | 1.89 |
| 225.70 | 98.24 | 1.76 |
| 256.10 | 98.45 | 1.55 |
| 261.50 | 98.48 | 1.52 |