N3UJJ On-Line Software Defined Radio (SDR) Page
This page hosts the configuration information needed to use my on-line Software Defined Radios.
From any computer in the world (with internet access) you can operate any of my software defined radios.
I currently have four Software Defined radios on-line, with three fully operational. As soon as the software is complete I hope to have the FunCube Dongle fully operational. If you have heard about software Defined Radios, and want to play with one (or three), now you have your chance.
I use the outstanding Software From Simon Brown, SDR-RADIO and Ham Radio Deluxe are by far the most advanced Ham Radio Software packages available.

For a list of all on-line Software Defined Radios visit SDRSPACE.COM
Full List with Map
Due to abuse by CBer's (Citizens' Band) 26.965 to 27.405, I have limited the "Guest" login to 10 minutes on the SDR-IQ
The SoftRock time limit for "Guest" is still 30 minutes (both radios)
Feel free to eMail me for a free validated login (with 60 minute access)
if you don't hear back in a day or two, eMail again (after all this is my hobby, real life comes first)
A couple of people have said the instructions are not clear.
Please eMail me if you are having a problem.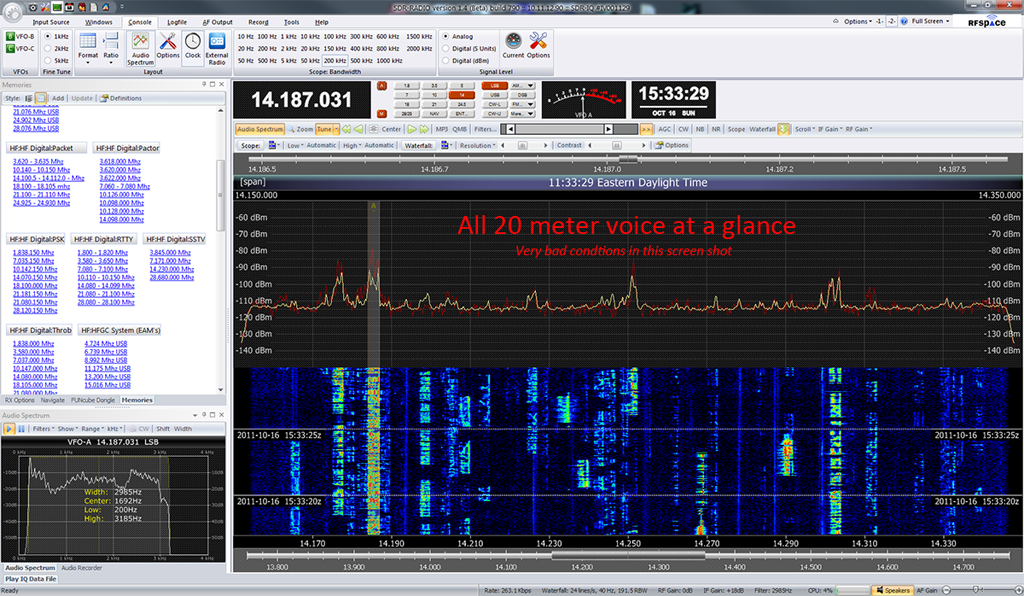 I use the following equipment:

If you got this far, it's time to learn how to set up your Software Defined Radio Software to access my radios.
I use Simon Browns SDR-RADIO Server Software, to access and control my Software Defined Radios
Download the latest Client Software from Simon Brown's site
(It's Free)
Download my customized Favorites and Navigator files
(links below, this is optional, but makes things easier)
Configure the remote connection
(see Picture Below)
Click Connect, and then start, and you are "On The Air"
(you have to start radio after connecting)
Note the port address: (see pictures below)
Remember, once you connect, you still have to start the radio.
I also created a custom set of files (Right Click, Save Link As:):
Download the custom Navigator file (then import it)
Download the custom Favorites file (then import it)